Queenstown's latest hospitality venue is arguably the coolest place to be this autumn.
Queenstown Ice Bar opened the doors to its Scandinavian-inspired ice lounge in February this year and has pride of place in the Upper Village – a lifestyle and entertainment hub developed below the Skyline Gondola.
Future Hospitality Group's Queenstown-based owners James Ace and Bert Haines, are hoping for support from visitors and locals after taking the plunge to open their second ice venue in the middle of a pandemic.
"We are thrilled to see the ice lounge come to life after months of planning and a decade of innovation and growth."
As the coolest new attraction in town and open daily from 11.00am, the bar features just under 30 tonnes of hand-carved crystal-clear ice architecture which quite literally takes guests breath away as they walk through sealed doors.
Ice sculpture highlights include a 2.5 metre tall ice warrior to greet guests on arrival and a stunning angel wing sculpture carved by renowned master ice carver Victor Cagayat.
The bar temperature is retained at a consistent and crisp minus 10°C and guests are decked out in plush winter coats, chic phone-friendly gloves and comfy Ugg-style boots.
"Catering for 50 guests it's another whole world inside with softly lit candles, a beautiful mirror set deep in the ice walls and curated cocktails featuring premium spirits that are served in curious ice glasses," says James.
Once guests have ordered their drinks, there are plenty of places to relax and cosy up on the surprisingly comfortable ice seats to drink in the atmosphere.
"The bar is very much a premium offering catering for pre-dinner tipples, après ski get togethers, late-night drinks and the excellent service we're renowned for."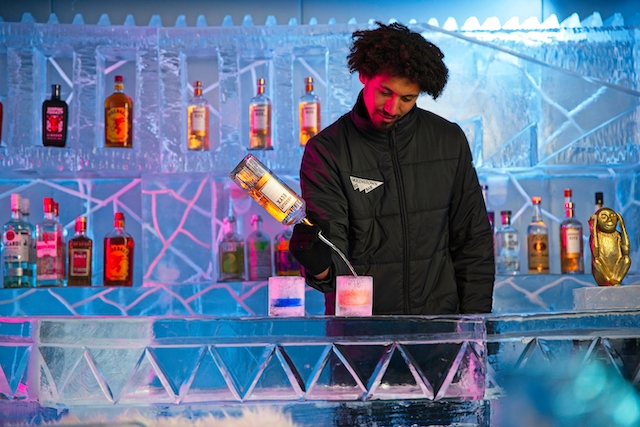 The Future Hospitality Group has been successfully operating for ten years. They opened their Mexican-inspired restaurant Margo's in 2020 and own the popular lakeside bar Little Blackwood, the family-friendly Minus 5º ICE BAR and Queenstown night spot Rhino's Ski Shack.
"We're really excited to open our new venue and locals and visitors are going to be amazed by this elevated little spot overlooking Queenstown, Lake Whakatipu and surrounding mountains," says James. "They will also be blown away by Victor Cagayat's impressive ice creations."