Majestic Mansions is a grand heritage listed building which has stood the test of time as a landmark complex at Dunedin's St Clair beach and continues its tradition of providing stylish accommodation and first-class hospitality begun in 1920.
Following the erection of a seawall at St Clair in 1913 people, particularly the wealthier classes, were attracted to the area to build impressive seaside homes in the newly created suburb.
Majestic Mansions was one such property with planning for the building beginning in 1916 and final completion in 1920.
Current owners of the Edwardian art deco style property, Penny and Joff Riley, purchased it in 2018 and have stamped their personality on the complex which had been reinvented many times by various owners.
"The building retains many of its original features which is part of its charm," says Penny. " The internal structure is unchanged from its original construction and over the last three years we have undertaken considerable refurbishment including painting, new furniture and replacement of soft furnishings and fixtures."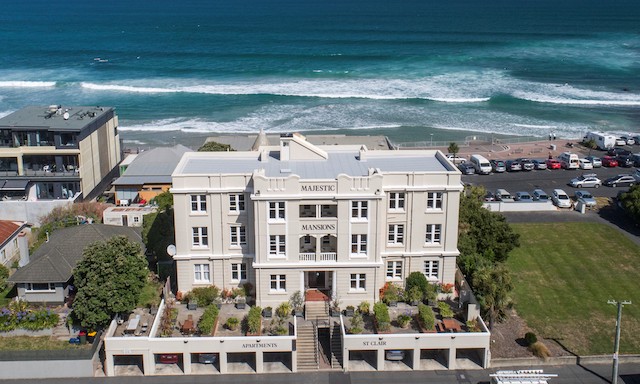 Majestic Mansions' elegant past is reflected in its grand entranceway and its serviced apartments which include a studio, one bedroom and two-bedroom options.
"The apartments all have different outlooks and the top floor with expansive views of the sea are the most impressive. There's a wonderful surf culture at St Clair and people love to just sit and watch the surfers in action and the comings and goings on the beachfront."
She says St Clair is a little metropolis of its own, close to but far enough away from the city, which is why a growing number of visitors to Dunedin are enticed to stay there.
"There is so much going on in the St Clair village with a great mix of restaurants, cafés and design stores, day spa and hair salon. It is promoted as the 'seaside in the city' and is ideal as a base for both business and pleasure. There are so many activities close by and it is not uncommon to see sea lions, seals and the occasional penguin while out walking on the main beach or around at Second Beach – the idyllic little beach that sits behind the Long Dog Café and the renowned St Clair salt water pool."
"People staying at Majestic Mansions come from all over New Zealand and we cater for tourists, families, couples and corporate clients. We have many returned guests which reinforces that we are providing what visitors want for either short or medium-term stays. The word is also spreading in the Queenstown, Wānaka and wider Central Otago area that St Clair is a must stay destination in Dunedin," says Penny.
"Our guests love the relaxed beach vibe and feel a million miles away from the city when enjoying the chilled, quiet atmosphere of the Majestic Mansions and all that St Clair has to offer."