A master-planned Alpine village in the magnificent Cardrona Valley is coming to life on a sunny, wide open and secluded plateau above the valley floor.
Work is well underway on Mt Cardrona Station's resort-style community, in a premium location that celebrates its rugged landscapes, gold-mining history and pristine environment.
It's a first for New Zealand, a unique village where just 29 hectares of the 400 hectares of glorious open space is being developed with an exclusive right to roam over the remainder of the station. 30km of trails designed by a world-class trail builder open up this incredible area for walking, hiking and biking at all levels.
Opportunities to live or stay this close to ski fields are a rarity in New Zealand so this village is exceptional, set just below Cardrona Alpine Resort and Soho Basin and just 12 minutes' drive from the Valley View lift. Snow Farm is also right on the doorstep, and Treble Cone and Coronet Peak are within easy reach.
Meticulously designed as mountain basecamp for an adventurous outdoors lifestyle, it also comes with everything you'd expect of a world-class resort.
Central to the village is the beautifully designed Homestead building overlooking a mountain tarn and with 360-degree views. It features The Adventure Centre with a gym and workout spaces, remote working and meeting facilities, a restaurant, hot pools, swimming pool, a stylish members-only Club Room and a ski and bike workshop. Ski area transfers will be on offer throughout winter.
Those who have already discovered this hidden gem have invested in freehold land and a range of home-and-land packages, perfect for those who prefer a turnkey no hassle option.
Mt Cardrona Station director and owner Chris Morton has had a vision for the land since 2006. 
"The high country setting certainly makes it unique, but what truly sets it apart from any other development in the country is the sheer scale of open spaces married with the quality of our overarching urban designs, architectural designs, our builders, landscapers and our facilities," he says.
"We've spent a lot of time getting this just right, and we're justifiably proud to launch this and have such an outstanding response from the outset."
Chris's passion for Mt Cardrona Station is evident.
"Up on this stunning alpine plateau, you're genuinely aware of each season, the changing colours and subtle hues of the landscape. Kids will love finding and making their own places and going exploring."
Land and homes Snapped Up
Mt Cardrona Station's initial land and building releases have attracted buyers from across New Zealand, including some who bought sight unseen in their rush to be part of this new community.
At the heart of the station is the Pioneer neighbourhood, a boutique collection of 24 house, land and landscaping packages.  Pioneer homes are designed by multi-award-winning Leuschke Group Architects and feature landscape design by Queenstown's renowned Baxter Design Group.
Unashamedly contemporary, homes sit respectfully within the dramatic Central Otago landscape and recognise the rich heritage of a region shaped by gold and brought to life by tourism trailblazers.
Early miners' cottages and simple farmhouses which once dotted the landscape provided design inspiration, married with a 21st century design ethos and the highest-quality modern elements and materials.
Open to north-facing views encompassing the Criffel Range and Cardrona Valley, the three Pioneer house types are within metres of the Homestead precinct.
Buyers to date range from those looking for a primary home to others investing in a holiday home or managed accommodation. Of great interest is the development's proximity to the outdoor adventures, award-winning wineries and restaurants, stunning lakes and championship golf courses of Wanaka, Arrowtown and Queenstown.
Buyers can move in themselves, rent out as a holiday home or do a combination of both. This striking collection of mountainside homes reference early settlers with the use of corrugated Corten steel, timber weatherboards, vertical battens, and schist exteriors.
Three to four bedrooms join roomy living spaces across all house types. Premium fittings and materials, chosen for durability and beauty, forge equally sophisticated and relaxed interiors.
House types on offer include The Rose, the largest 3-4 bedroom home clad in distinctive schist and climate-conscious Abodo timber, while the Pisa has a distinctive lean-to barn style. The Soho evokes the simple beauty of early cottages. Attention to detail includes drying facilities for snow gear and bike racks in each property.
Land-only neighbourhoods are Walter Little and Little Meg. Walter Little has premium 800sqm sites available, with elevated positions and unobstructed views of the Mount Cardrona Range. There's already limited availability in the Little Meg neighbourhood, where north-facing sites range from 350sqm to 550sqm.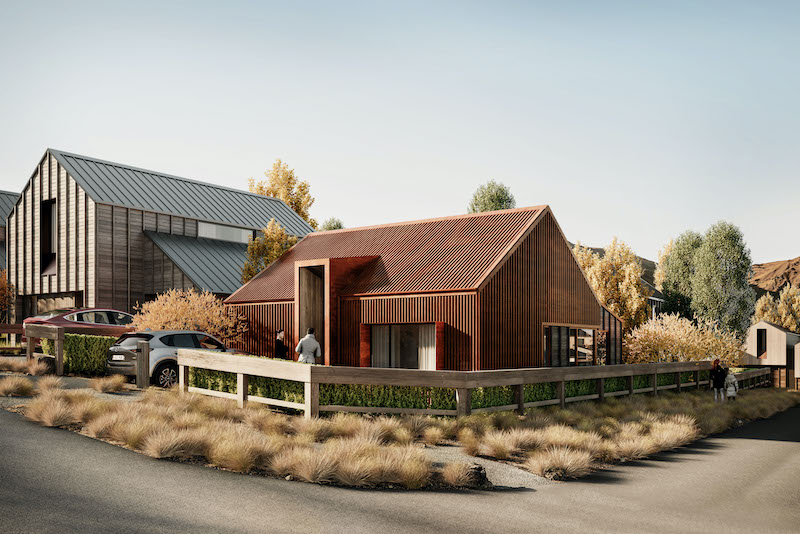 I'll take it… 
Interest surged in the $650M Mt Cardrona Station development with its first releases, resulting in $25m of homes under contract at the time of writing. The majority were from keen buyers who registered interest sight unseen due to travel restrictions at the time.
Among those was an Auckland professional with a young family, recently relocated from overseas.
"We weren't really in the market for a second home at all, but it struck us as something we wouldn't usually find in New Zealand," he says.
"The concept of this village in the mountains with the wilderness element plus all the amenities at an international standard were a level above what we expected.
"The agent took us on a virtual tour and while I wouldn't normally buy property this way, we engaged Landmark Homes to design and build a property for us. We can't wait to bring the children down."
New Zealand Sotheby's Myles Green says the development's captured public imagination. "People have picked up on how unique and beautiful the village is and are keen to be in at ground level. Buyers are working on their designs, looking forward to the lifestyle and keen to make new friends."