Wanaka wool entrepreneur Michelle Stewart of The Woven Co has introduced a progressive new subscription service to her boutique online yarn business that has taken her clients by surprise.
"The Woolly Surprise subscription concept is designed for customers who are looking for something uniquely new and exciting to knit," says Michelle. "I try to make it a little mysterious but equally give people something they want to create. The response has been incredibly rewarding and kept me very busy with customers all over the country taking up subscription options."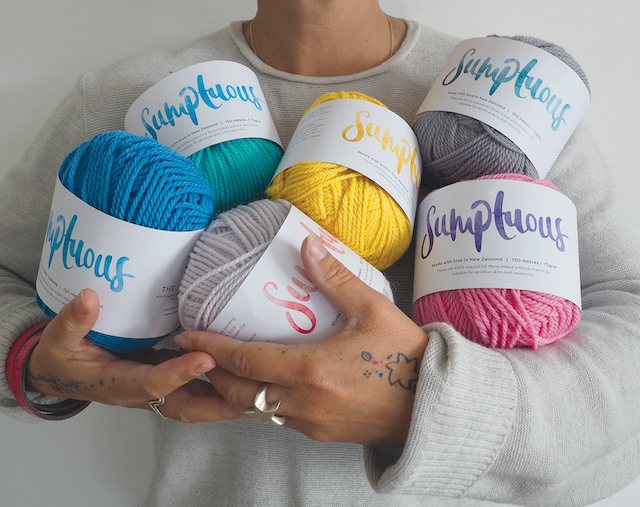 The service covers everything from monthly and learn to knit packs through to mystery packs that offer an extended knit along experience where customers receive regular instalments.
"The learn to knit subscription has been very popular and takes people on a journey from the very beginning of picking up sticks through to knitting something quite technical in the pattern – it makes a lovely gift for a first-time knitter. Everything we do is supported with online video tutorials on the website www.woollysurprise.co.nz with an active community of knitters sharing what they are creating on our Facebook page."
Each bespoke pack includes a selected choice of The Woven Co's brand of beautiful 100% New Zealand yarn and her unique designer patterns.
"Everything you need to knit is in the pack that comes to your door each month and customers can choose to speed up or slow down their delivery's dependent on progress," says Michelle. "In the development phase I asked customers lots of questions like how fast they knit, how big their budget is and their tastes in colours so we can customise the packs to the right consumption level rather than force feed people to knit too much."
The concept has been a definite success and Michelle receives a lot of feedback from delighted knitters.
Customers can individualise their level of wool subscription and cancel at any time.
" The mystery and knit along packs have had a huge up take with the second knit along option now live on the website for anyone wanting to sign up. This is where you make a blanket over an eight month period and every month receive a pack with more yarn, a new clue and a set of instructions to knit a different texture into the blanket. People love it."
Michelle says the subscription concept is a jump into a totally new direction that has paid off.
"It's been really exciting and there are more new things to come on the subscription side – watch this space."