The founders of Juno Gin hope to attract  gin enthusiasts and curious drinkers from Queenstown, Wanaka and Central Otago as well as the rest of the country to explore their stylish new cellar door and tasting room in New Plymouth.
Jo and Dave James say the cellar door and tasting room project has been a labour of love, allowing them to bring their passion for all things gin to life.
"We are a boutique distillery creating award-winning gin that was born out of a love for the spirit," says Jo. "Our Juno gin is available for purchase online and in speciliast boutique bars and restauarnts. The vision has always been to create a very personal experience for guests travelling to our home region hence the development of our very own cellar door and tasting room."
The slick new Juno Gin cellar door features customised display shelving, central island and full kitchen facilities for hosting gin tastings and specialist events. 
There are several tour options including The Taster Tour which incorporates a distillery walk and boutique gin taster. For a deeper dive into all things Juno gin there is the Full Distllery Tour that includes canapes and cocktails on arrival and the option for a fun gin quiz to finish.
"With the distillery tours we take the time to talk through our personal approach to producing gin and share the process on how we infuse botanicals into our spirits, as well as any interesting liqours we're working on at the time," says Jo. "We love having that personal connection with people and the tours allow us to share our passion and expertise with others."
The cellar door is designed to host events and parties, ideal for larger groups or corporate retreats.
"We are particularly proud of the food and beverage scene in Taranaki and with this new space we're adding an exciting experience for both locals and visitors to the region."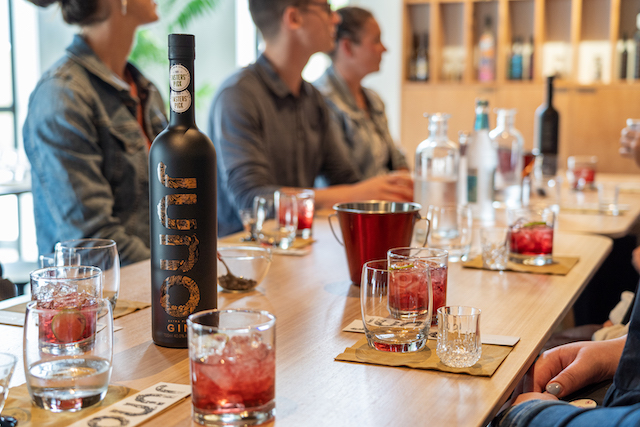 The Juno Gin Cellar Door is open six days a week retailing the Juno Gin range at exclusive cellar door prices.
All tours, event tickets and cellar door information is available at www.junogin.co.nz