Eade Gallery's mantra is "something for everyone."
When Melanie and Rex Eade opened their contemporary gallery in Clyde four years ago their vision was for a casual and welcoming artistic space.
" We wanted people to experience a wide range of work with styles that appealed to all walks of life including paintings, glass, jewellery, ceramics, photography, indoor and outdoor sculpture, prints and cards," says Melanie. "Not all of our talented artists are widely galleried and some are happy to show their work exclusively here."
"Our beautiful border collie Mollie, who passed away last year, was an integral part of creating this lovely inviting space by welcoming everyone who came to the door," says Melanie. "It's grown organically and evolved quite naturally. From day one we only took artists as local as possible and whose styles didn't compete. We now represent some artists from other areas, generally they approach us having heard about the gallery."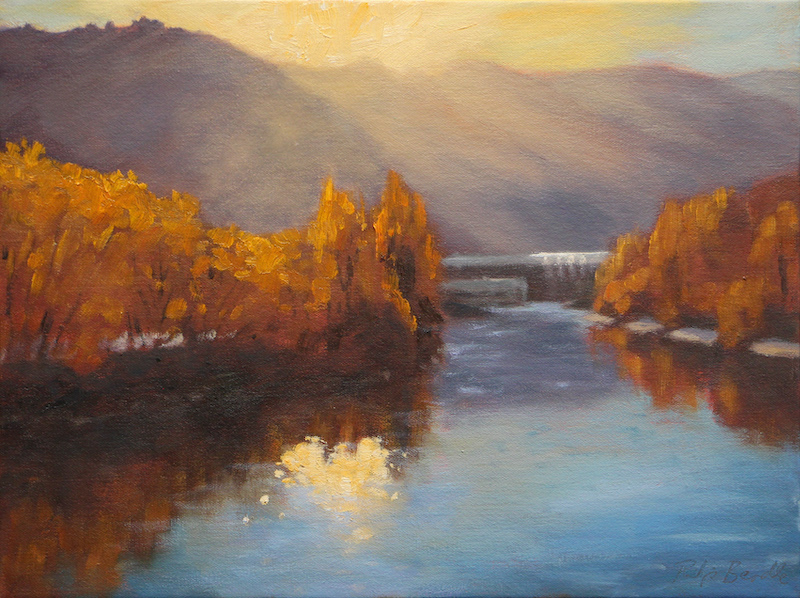 Eade Gallery has a wide reputation with national and international clients providing much of the repeat business.
"Customers coming to Clyde annually always pop in as do those driving through from Dunedin or staying here in holiday homes," says Melanie. "Locals bring their visitors through and people riding the local trails enjoy visiting the gallery. Many fall in love with a piece of work and contact us weeks later when they are back at home to make a purchase."
"Our solo exhibitions are always successful which I think is partly due to displaying the diversity of work, composition, size and price for just one artist in a visually impactful way. There is always a flurry of interest when work is being unwrapped and we sold three works from a recent solo exhibition by Paul Samson, just as they were being hung, to an Auckland couple who called in off The Dunstan Trail."
Autumn is the season to experience Clyde's exceptional colours and Melanie highlights three artists in particular whose works celebrate the season.
" Definitely Philip Beadle, Judy Smith, Nigel Wilson's Orchard Series and Esther Dexter's works are representative of this stunning time of year and their art is very popular. We also have new works by Fiona Garlick, a bronze sculptor from Arrowtown and Kim Henderson, a ceramic artist we discovered when travelling through the Greta Valley."
The gallery's in-house picture framing service offers a range of quality mouldings and options.
"We frame new paintings reframe old works, puzzles, embroidery and more," says Melanie. " Many of our customers are returning with more works to be framed, a testimony to the quality of Rex's workmanship."