Forté Flooring, a third-generation family business specialising in timber flooring and interiors, has launched in Queenstown showcasing its many innovative timber products sourced from around the globe.
Product specialist Lianne Johnson says Forté's new showroom on Frankton's Hawthorne Drive means customers, designers and architects can see the full range of products and receive expert advice.
"The showroom provides an inspiring space where customers can come in at any time, take away samples, have a coffee and discuss their designs and projects."
"We really want to ensure our customers are happy. Whether they are interior designers, architects, homeowners or builders we can help provide a timber solution that is best for residential or commercial projects."
"Choosing flooring is a big decision and it can be a stressful process, so getting it to match the décor and style of the home is paramount. We encourage people to bring in décor samples and images and we'll work with them to ensure the best product and colour match is supplied," she says.
"Forté offers over 100 timber solutions that vary in style, colour, texture, width and length, there is a large range of pre-finished planks to choose from, or clients can custom colour if they require a specific finish for their project."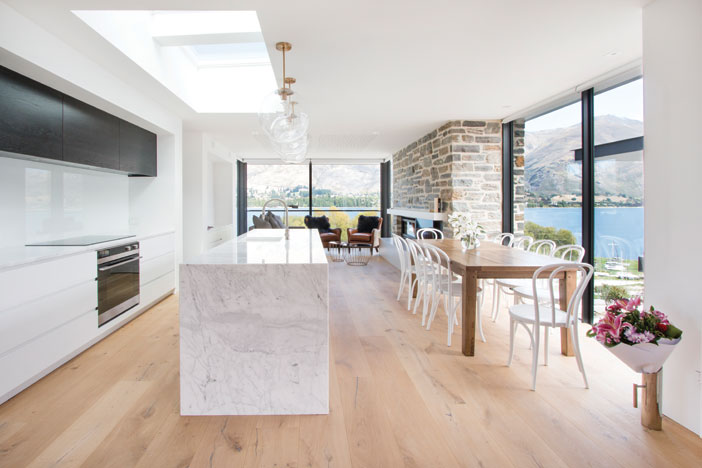 Forté Flooring is at the forefront of the industry and has recently become New Zealand's exclusive supplier of Millboard premium decking, something Lianne is very excited about.
"It is perfect for outdoor decking in the Southern Lakes environment. Millboard is a wood-free decking alternative that is hand-moulded from genuine timber planks. It offers the beauty of a natural wooden deck but without the flaws of the natural product," she says. "The product is extremely low maintenance, slip, fade and scratch resistant and is incredibly resilient. There is nothing else like it on the market and we are excited to bring it to New Zealand."
Some of Forté's ranges offer herringbone and chevron patterns, as well as rough-sawn effects and reclaimed timbers salvaged from old decommissioned fishing boats.
The majority of flooring has 'engineered construction'. This features a solid timber wear layer backed with cross-directional ply which is extremely durable and designed to withstand New Zealand's climate.
Lianne says the engineered construction uses onethird of the amount of hardwood than is used for a solid timber floor. "The company is focused on being sustainable and aims to replant everything that it uses."
"Forté is on track to plant 2,000 French oak trees in Europe this year alone, to support the issue of deforestation. We're not a 'take your order, see you later' kind of company," says Lianne. "Everyone is really passionate about what they do here, from where the timber is sourced, right through to ensuring that the product is perfectly installed."