Showcasing the full range of Cloudy Bay's world-class wines The Shed cellar door, with its unparalleled wine and food experiences and scenery, is a significant Central Otago destination.
" We are excited offer our new dining menu throughout the year with a focus on sharing style dishes designed around our wines," says Cloudy Bay customer experience manager Meg Soper.
"This relaxed style allows guests get to experience a variety of amazing dishes and spend time dining and enjoying our beautiful location."
Harry Bonning-Snook was recently appointed head chef in charge of developing and cultivating exceptional food experiences.
"We are absolutely delighted to have Harry on board bringing his experience from both Queenstown and the UK to The Shed along with a huge passion and knowledge for wines. We have been in major creativity mode crafting the grazing style of service where each dish is served just as the food is ready."
" A whole lot of fun was had creating this menu around Cloudy Bay wines," says Meg. "For example the new duck dish links to our premium Central Otago Te Wahi Pinot Noir and is done two ways – smoked duck breast and confit duck leg croquettes served with pickled local cherries. It's a match made in heaven."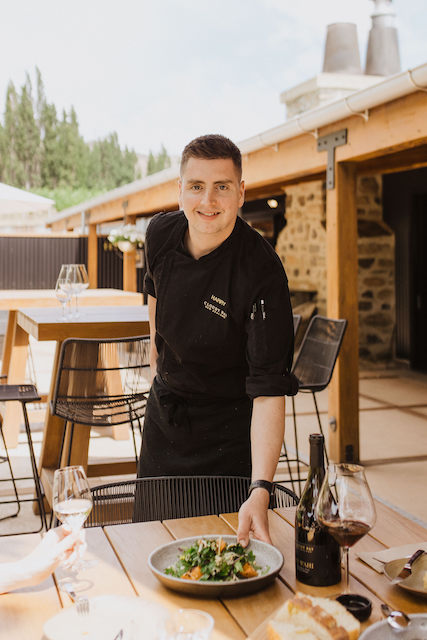 Championing Central Otago produce is a significant part of the food and wine profile.
"The menu changes with the seasons while still keeping much loved favourite dishes like the Taste of The Shed platter on the menu with a few tweaks. Using fresh and local products is key and our new supplier Royalburn Station on the Crown Terrace provides lamb and other produce."
The Shed lunch menu is served from 11.30am until 3.30pm and includes sharing style plate options and the Taste of The Shed platter. The Cellar Door menu offers an alternative with lighter bites, a cheese platter and fresh baked breads, ideal for accompanying a tasting or glass of wine.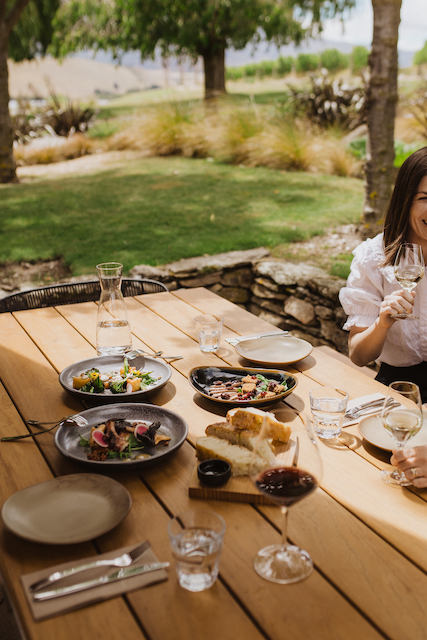 "Guests can also book our private The Epicurean Experience – a menu paired with our specialty wines – that can be tailored to their own personal wine preferences to make it really unique. This is available for four to twenty people with pre-bookings essential," says Meg.
Autumn is a significant time for Cloudy Bay with their Central Otago vineyards in full harvest mode.
" This season is arguably the most exciting, and sometimes the most stressful time of the year for the wine industry," says Meg. "At our Northburn site harvest starts around the mid to the end of March and while there is so much going on in the vineyards we can offer our tailor made tastings which incorporate a short walk around the home block vineyard followed by a privately hosted tasting. After harvest we offer our full private vineyard tours."
Meg says pre-bookings are vital for tours and special tastings to ensure availability.
"The dining area at the cellar door is small and over summer we were fully booked on most days with many guests travelling from Queenstown, Wanaka and even further to lunch with us so having a booking secures visitors a spot."
" We normally allow at least 90 minutes for each booking and for groups larger than eight people we request pre-orders. Wine tastings are separate to dining experiences so it's always best to allow extra time before or after lunch to relax and enjoy hearing about the Cloudy Bay story. We also often have guests come just for a glass of wine on the law and an afternoon drink taking in the view over Lake Dunstan and towards the Pisa Range is utter perfection."