For Campbell Read the idea of starting an e-bike business a decade ago was a chance to create a whole new lifestyle in Queenstown and led to the establishment of one of New Zealand's pioneering e-bike importation businesses.
"I was the graphic designer on Jane Campion's television series Top of the Lake at the time and just loved the experience of being in the Queenstown area. Obsessed with mountain biking since the 80s I was out on the local trails all the time and discovered there was hardly anyone on them."
"When my partner Amanda, who was also working on the series, and I went back to Wellington I was conjuring up ways to get back down south. Then when a friend mentioned that one in three bikes in Europe was an e-bike I had the kernel of an idea for a business. It was at the forefront, no one was importing these kinds of bikes here so there was no developed market."
Campbell headed to Europe to research at the international Eurobike show in Germany and was introduced to the founders of Moustache e-bikes.
"These French guys Greg Sand and Emmanuel Antonot were ahead of the game building their factory just two years earlier in their home region of Vosges. They were the first to produce a Bosch powered mountain bike having identified very early on that e-bikes were going to be the next big thing."
"I was drawn to their stylish, functional designs, beautiful frames with minimal graphics and superior Bosch motors – it was the total package. "
The ChargeAbout e-bike and rental business was established and Campbell received his first shipment of bikes in 2014.
"My first ride on a Moustache with its Bosch motor was a pivotal moment. Until then I had only ridden Chinese made e-bikes with hub motors that were fun but totally inefficient for riding up local trails."
"There was no-one else doing e-bikes here and initially it required quite an attitude change to get customers to try them. You had to jolly people along or kick them off their regular bike to trial an e-bike. Then people started to switch on to the fact that e-biking is engaging, low impact and takes you further."
An invitation to set up a rental shop at The Hilton was the next step in the expansion of the business.
"The GM Chris Ehmann gave our promo voucher to visiting friends from Denmark who were triathletes and not really impressed with e-bikes but sort of grudgingly went off for a day's riding with their young children. They raved about the experience booking the bikes for a full week and Chris offered us a spot at The Hilton and the business took off."
Today ChargeAbout and the E-bike Studio are exclusive importers of Moustached e-bikes into New Zealand and Australia and Campbell and his team of five recently opened a large new showroom, service centre and warehouse in Glenda Drive.
"In 2020 we handed the rental side of the business over to Matt from Better by Bike so we could solely focus on wholesaling, selling, servicing e-bikes," says Campbell. "It is a very personal business and all my crew are superb to deal with as are our regional dealers. The showroom has a full range from stylish step through 'rail trail' type bikes to full suspension off road bikes, top of the line downhill bikes for smashing down Coronet Peak and everything in between."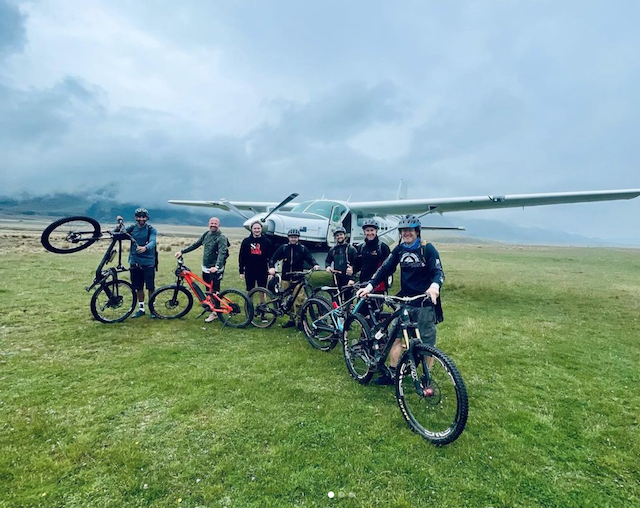 European Collaboration
The decision by Campbell Read of Queenstown's ChargeAbout to import Moustache bikes direct from France has created a collaborative relationship with the founders of the successful international brand.
Moustache produces a structured collection of e-bikes for different riding needs from urban, all road, road, mountain bike to kids' bikes including a bike Campbell specifically asked them to design.
"Initially we could only get European style trekking bikes with skinny tyres so I badgered them for a bike with wider mountain bike tyres and a lower step through as a cross over between on and off-road bikes. The result was the Cross Road bike which has been an epic seller for us."