Arrowtown's vibrant autumn colours are internationally renowned backdropping the town's distinctive heritage buildings.
" The beauty of Arrowtown is its central location being right on the doorstep to Queenstown and close to surrounding areas of Wānaka, Cromwell and Central Otago," says Arrowtown Promotion and Business Association manager Nicky Busst. "Arrowtown in autumn is a must do with exceptional café and dining options and a myriad of high-end shops and galleries."
She says Arrowtown shines above the rest throughout autumn and is a regional hotspot for amateur and professional photographers.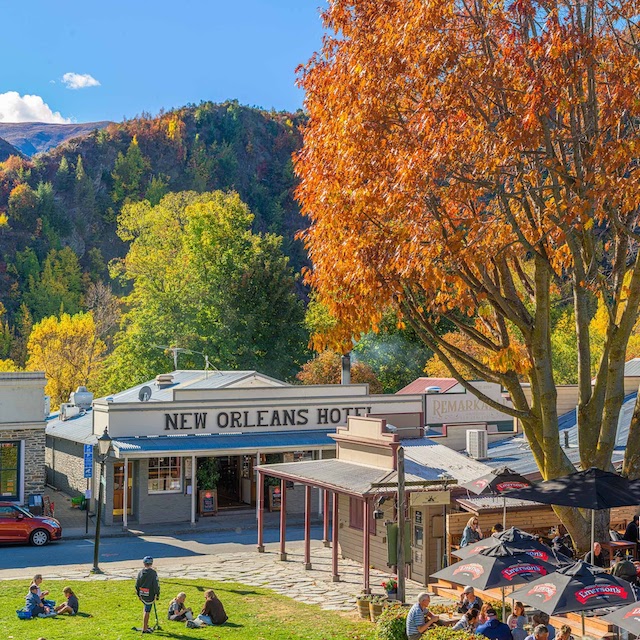 Tohu Whenua Recognises Heritage
Tohu Whenua sites around the country are identified as unique places that have helped shape and define New Zealand's rich heritage . Alongside other Queenstown landmarks such as the Kawarau Suspension Bridge and the TSS Earnslaw, Arrowtown has been recognised as Tohu Whenua.
"The Tohu Whenua brochure describes Arrowtown as a charming town that reveals the stories of two very different goldrush communities – the preserved avenue where wealthy European banks and merchants traded, and the restored huts of Chinese miners who lived a much more modest lifestyle," says Arrowtown Promotion and Business Association manager Nicky Busst.
She suggests walking and cycling as a great way to experience both sides of the local history along with an educational visit to the Lakes District Museum.
"Arrowtown is an excellent place to combine heritage with cycling with over 60 heritage listed buildings. Visitors can pick up maps from the Lakes District Museum and discover more about some of the iconic local sites like the Chinese Village."
Captured by the Lens
The annual Arrowtown Photography competition entries will be displayed at the Lakes District Museum art gallery from mid-April until mid-May highlighting images of New Zealand's most beautiful small town.
" The variety of imagery is a diverse range of landscape, history, people and nature shots and always awe-inspiring," says Arrowtown Promotion and Business Association manager Nicky Busst. " The competition has grown significantly over the years with over 100 images received in 2021."
She says the competition is well supported by the local business community including naming right sponsor Bayley's Arrowtown, the Jade and Opal Factory, Print Central and the Lakes District Museum.
" I encourage people to get along and view this stunning display in the museum's foyer and art gallery space which also features the finalists and winners of each photographic category."
Dining in Arrowtown
Amisfield Winery and Bistro has recently been named the country's premier restaurant in the Cuisine Good Food Awards Restaurant of the Year, also retaining its three hats' awards held for several years.
The Innovation Award was made to Amisfield executive chef Vaughan Mabee with the judges claiming the restaurant is "the crowning glory of Queenstown" while the food is a "stunning representation of New Zealand food culture , delivered flawlessly."
"The indoor and outdoor dining options here are incredible and it's been exciting to see some of these world-class restaurants receive recent awards. We applaud their achievements and encourage people to come out and experience what is on offer here," says Arrowtown Promotion and Business Association manager Nicky Busst.
Amisfield's three hatted restaurant and cellar door is set in a stunning stone building overlooking Lake Hayes. Since opening in 2005 it has become a destination for award-winning food and wine under the guidance of Vaughan Mabee and food and beverage director Tony Stewart.
Arrowtown restaurant Aosta is also listed among New Zealand's best eateries in the Cuisine 2021-22 Good Food Awards. The Italian inspired restaurant in Arrowtown's main street is the brainchild of celebrity chef Ben Bayly, offering an exceptional food experience. It recently opened a new sister restaurant Little Aosta next door offering dine-in and takeaway options.
Housed in one of Arrowtown's historic homes, The Postmasters Cottage Café is a picturesque spot for daytime dining either inside the restored cottage or al fresco in its heritage garden setting.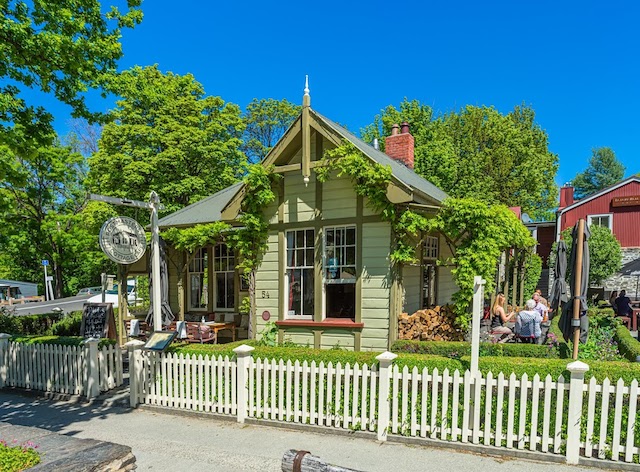 Autumn Activity
Hire a gold pan from the Lakes District Museum or Dudley's Cottage and try your luck at finding some of Arrowtown's famous gold. The Arrow River is just two minutes from the main street and offers an enjoyable pastime for the whole family.
Matariki Light Festival
Arrowtown is celebrating Matariki from June 24-26. Matariki is a cluster of stars (Pleiades) that rises in mid-winter, marking the start of the Māori New Year. For more information Arrowtown.com